Registered Massage Therapist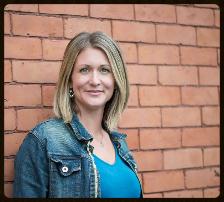 Krista Eisner, RMT
Clinic Owner/Manager
*Maternity Leave*
Member of the College of Massage Therapists of Ontario (CMTO)
Member of the Registered Massage Therapy Association of Ontario (RMTAO)
My interest in rehabilitation and bodywork began with injuries as a teenage athlete. After seeking sports and physiotherapy, I was amazed that I was able to regain pain-free functional mobility, and return to competitive level play.

Thinking that I wanted to become a physiotherapist, I completed a physio and occupational therapy assistant program at Sir Sandford Fleming College in Peterborough. My introduction to massage came while playing for the varsity volleyball team where many of my team mates were massage therapy students and my coaches were RMTs. There was something about the hands-on, personal and healing aspects of massage as well as the manual vs. machines approach that really captured my interest. After completing the 3 year massage therapy program at SSFC in 2004, I moved to Ottawa and began working in a massage therapy and chiropractic clinic. I dreamed of one day having a welcoming multidisciplinary health centre that offered above average client care. In the spring of 2008, I took the opportunity to purchase Kent Massage Therapy & Wellness Centre and have been building it into a positive healing environment with exceptional therapists.
Since the beginning of my career, I have had the opportunity to experience and/or work alongside many health and wellness practitioners including physiotherapists, chiropractors, naturopathic doctors, acupuncturists, osteopaths, traditional chinese medicine (TCM) practitioners, nutritional consultants, energy workers, yoga, pilates and fitness instructors, feldenkrais and franklin method teachers as well as clinical counselors. Working with all of these people continues to re-enforce my belief in the importance of a holistic or whole body approach to healing.
Over the years, I have seen the theory behind my treatments grow and change as I learn more about the body and its complex connections. I believe that our physical, mental and emotional selves reflect each other, and that injury, stress or trauma to one affects the others. (Ever notice how you're more aware of your pain when you're stressed out?) As does healing one will affect the others.
In short, I base my practice on the whole picture, not just the current symptoms, because most often the pain being experienced is a byproduct of a previous trauma, injury or imbalance. I practise on a broad spectrum from energy work and craniosacral therapy to deep tissue sports massage, but the treatments are always guided by the body's needs. In recent years, I have been drawn to work in a more subtle fashion as I see the extraordinary benefits and outcomes of craniosacral work and fascial release. I especially enjoy working with infants and women surrounding pregnancy. I am interested in long term results including healing, education and prevention for my clients, not band-aid approaches.
Cranial Sacral Therapy
The Basics and More - 09/2013 - McKeel Seminar Group, Gary Keeling, Ottawa ON

Intermediate Level - 05/2014 - McKeel Seminar Group, Gary Keeling, Ottawa ON

Subtle Hands-On Skills - 06/2014 - Carol Gray, Portland OR

CST for Pregnancy, Birth and Postpartum - 11/2014 - Carol Gray, Portland OR

CST for Infants - 03/2015 - Carol Gray, Portland OR

Pediatric CST Workshop -09/2016 - 6th CST Alliance Retreat, Portsmouth NH
Yoga Teacher Training
200hr - 10/2013 - Adishesha Yoga, Basia Going & Janice Tokaryk, Ottawa ON

Postnatal, Level 1 - 11/2014 - Little Lotus Yoga, Amanda DeGrace, Ottawa ON